Reducing the Costs on your Atlassian estate is the name of the game since the Atlassian announcement about the end of life of the Server deployment option by 2023, and subsequent price increases. But how to achieve savings when license prices have gone up?
There are two ways to reduce your costs, depending where you are in your life cycle, and if your deployment option excludes the Atlassian Cloud. One is, that you want to stay on the Server deployment, but want to avoid a costly upgrade as your estate is growing. Or, you envisage very fast growth of the user count and could envisage moving to the Data Center deployment, but without the price tag.
If you are in the latter category, talk to us as as soon as possible, we can help you secure a 30% - 40% discount on Confluence and Jira respectively, if you upgrade from Server to Data Center. This offer ends in June.
In addition, we have developed an intelligent user management solution that a number of our clients have deployed already. It keeps the user count at the actual active level of use, which in many cases is below the number of registered users. Our Log Analyzer will check your usage profile over a period of a week to determine peaks.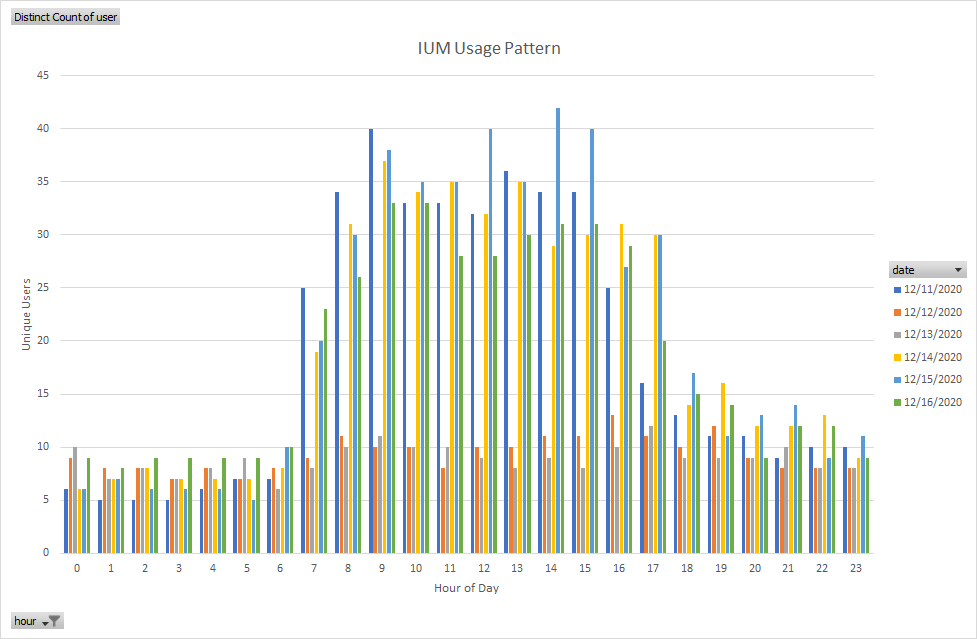 The diagram above shows the usage patterns on a per user basis in Jira retrieved with the Log Analyzer App. It can determine parameters, such as heavy users, time inactive, etc.
This particular customer has 128 Licensed Users, but only 42 concurrent users are active at peak times (at around 2pm) analysed over a 5-day period between Dec, 11 to Dec, 16 2020.
This particular client has implemented the intelligent user management solutions saving them to have to upgrade to the next user tier up from 100 users. Savings include the upgrade costs of Jira, JSM, Confluence, Bitbucket and all associated Apps.
Additional savings can be secured by moving into the Accxia Private Cloud as we can offer favourable pricing compared to public DIY cloud vendors, such as AWS, and SaaS offerings. We take advantage of scale economies provided by our data centre, which is also only uses energy from renewable sources: hydropower in Germany, wind and hydropower in Finland, all with energy-efficient hardware.
"Consolidating our various SaaS and Cloud applications was a priority for Racing Post. As CTO, security, control and scalability are paramount and critical enablers for the Group's M&A strategy.

The Accxia Private Cloud offered the only viable option out there, from both a technical and commercial perspective."
- Johan Pieterse - CTO Spotlight Sports Group
If you would like to explore whether this works for you, then talk to us. Please click below to set up a short meeting.
If you like us to call you back or email you, please click below.