In our quest to offer Cloud Native micro-services to our clients we have developed ARC-M (Automated Regulatory Compliance-Management), a centralised automated distribution solution for effective regulatory compliance management for the financial services, gaming and betting industries.
According to a McKinsey analysis regulatory fines and settlements increased 45-fold over the last ten years, whilst operating income has decreased by 10% over the same period. Compliance activities tend to be isolated, lacking a clear link to the broader risk-management framework, governance and processes, such as compliance reporting and analytics.
Automation is one critical measure to curb a dramatic increase in compliance and control spend enabling a holistic approach to operational compliance management.
We partner with ORO Services GmbH (ORO), a Frankfurt based Specialist in Regulatory Compliance Monitoring and Management. ORO monitor and manage over 50 different data sources across Germany, Europe and the US. Every new or amended regulation is stored in Regupedia, ORO's proprietary data warehouse.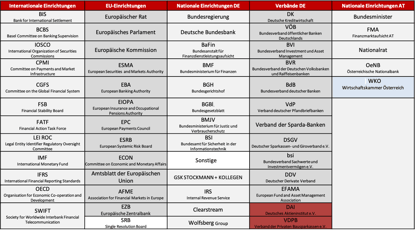 Typical Issues
During ORO's consulting activities and in conjunction with market research activities ORO identified a number of typical issues faced by banks and financial institutions that constitute areas of concern.
Insufficient compliance with standards

Insufficient analysis of materiality of new standards

Inadequate monitoring of implementation efforts

Lack of cooperation between the Compliance and Business functions

Lack of, or insufficient Reporting
The challenge banks and financial services organisations face as a result of the observations can be summarised as follows:
How do banks monitor increasingly dynamic regulatory frameworks and procedures?

How are these analysed with regard to the impact on the banks or how are the resulting implementation activities coordinated?

How is compliance with existing standards maintained in relation to a dynamic market environment or a dynamic internal organisation of the banks?

How can decisions made on dealing with certain regulations be documented in a comprehensible manner?
Advantages of a compliance management process
Efficient regulatory compliance management through automation and standardisation
Efficient and targeted regulatory process including audit trails

Continuous supply of information on regulatory innovations

Timely identification of the need for action

Faster and more efficient implementation of regulatory changes

Risk-based definition and derivation of monitoring and control activities

Improved communication and coordination of the organisational units involved in legal monitoring

Uniform and centralised solution within the entire institute
Cost reduction
Sustainable added value through the use of an automated process

Increase in reliability towards business partners and customers

Examination and, if necessary, adjustment of human resources due to lower resource expenditure
Client Case
Broadly, the compliance data will be pushed into the bank's Jira instance where it triggers a workflow and notifies all stakeholders.
We've recently implemented this standard approach at a private bank. The client opted for our Bridge architecture to ensure the client's Jira instance can be accessed from an external data source complying with their security standards.
"The bank has the highest security requirements that prohibit external access to our Jira instances. The Accxia Bridge enables data transmission from external sources without compromising our security - it is part of their Intelligent Atlassian Solutions toolkit.
Innovative and brilliant!"
Hauck & Aufhäuser, Private Bankers Frankfurt and London