Accxia has been approached by WebBeds, the European answer to Airbnb, to merge various Jira and Confluence instances following a couple of business acquisitions into one instance to reap the benefits consolidation can offer, these benefits include:


Increased productivity
Major cost savings in terms of license, infrastructure and administration costs
Enhanced performance due to one single point of truth
One of the main reasons they approached Accxia is that WebBeds wanted to get the merger and consolidation done right the first time without having any long term or ongoing issues.
The focus was to merge an Atlassian Server and Atlassian Cloud instance and consolidate these into one single Atlassian Cloud instance.
The consolidation and migration consisted of Jira Software and Confluence platforms, including various Atlassian marketplace applications.
The following process detailed below entails all the relevant steps involved in order to undertake and complete the consolidation and migration.
Why consolidation?
Atlassian applications are being rapidly adopted across multiple industries, and are forming part of a business critical toolset used in most organisations today.
It is also common that organisations find themselves with multiple instances of the same Atlassian tool, either through acquisitions, mergers or through small 'test' instances growing in adoption until they are used as production systems.
Consolidation via merging can deliver value both in terms of the costs (licences and maintenance overheads), but also in terms of operational efficiencies, such as collaboration between teams.
Key factors to consider
Atlassian Applications are available in three different flavors. There is Atlassian's own SaaS model; Cloud, as well as the more traditional behind the firewall options of Server or Data Center.
Each flavor has its own pros and cons to consider while choosing the right deployment platform to house your Atlassian tools. Here are the key factors;
Scale and growth

Speed and performance

Extensions and integrations

Data residency and security

Maintenance and cost
Where there is benefit and desire for a simple SaaS solution, but the Server or Data Center versions offer other functionality of value, it is worth exploring the Private Cloud options by Accxia. Speak to us about about how we can provided you these enterprise versions under a PaaS model - https://www.accxia.com/. The key benefit under the PaaS model is the the full integration of production, test and staging environments combined with auxiliary applications and operating systems that a simple SaaS environment or DIY cloud such as AWS only offer on request and at considerable cost.
Consolidation and Migration Path
The consolidation path differs slightly from Application to Application, and further depends on what the target system is.
It is quite common for companies to wish to consolidate Server versions into Cloud versions, and visa versa.
Jira Migration and Merge Plan
Step(s)
Turn on Monthly Subscription to Atlassian Cloud to avoid import failure due to user limit.
Rename any duplicate project names that exist in both Cloud and Server to allow for consolidation.
Project in Cloud instance required change from next gen to classic project by moving its issues to a classic project.
Determine Live migration date and prepare backups cut-off points.
Consider Backup duration time into the plan.
Jira Cloud Preparation
Step(s)
Install and setup latest version of Jira Server.
Install all required plugins as per Cloud Instance.
Set the JVM memory to 4 GB.
Set the jira-config.properties file to the following values:
jira.websudo.is.disabled = true
Make sure the plugin Checklist has the option Save Custom Field data to ON.
Take Backup from Jira Cloud instance.
Import the backup and attachment to the latest installation of Jira version.
Perform a full system Re-Index.
Import Data to the Local Jira installation.
Run Integrity Checker.
Remove any configuration that points to missing objects. Only attend to errors.
Run a full project export without Issue attachments.
Copy attachments to the target Jira directory.
Jira Server Preparation
Step(s)
Install and setup Jira Software -7.1.10.
Install Jira on a context path.
Install all required plugins.
Import Backup.
Upgrade to Latest version of Jira.
Run Integrity Checker and resolve issues.
Setup application link with Jira server imported for Cloud in the previous step.
Map the full project import and resolve any issues.
Index Jira.
Take XML Backup and zip attachments.
Import Jira to the Atlassian Cloud
The import to the Atlassian Cloud is done as per the Atlassian documentation provided on their website.
Process Diagram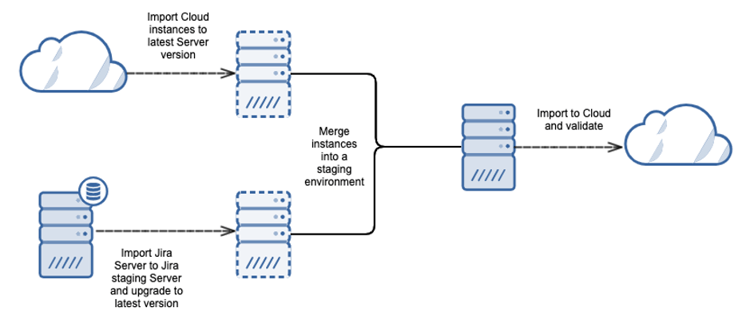 Confluence
Confluence migration is more streamlined than Jira. We can use the Atlassian migration app to test the migration from Server to Cloud.
We need to ensure if any apps are going missing from the server version when migrated to Cloud.
Check users and groups.
Check if there are duplicated space names and resolve before migration.
Confluence Migration and Merge Plan
Step(s)
Install Confluence Server version 6.2.3.
Import Confluence Server backup to the new Confluence Server instance.
Upgrade Confluence 6.2.3 to latest Confluence version.
Generate a backup from the Cloud instance and import it to a new trial instance for Cloud.
Use the Atlassian migration app to migrate spaces from the newly installed Confluence Server to the trial Confluence Cloud.
Resolve any conflicts, these might include usernames, groups, space keys.
Overall Timelines
| Step(s) | Days |
| --- | --- |
| Migration analysis and planning. | 1 |
| Jira Server replication and upgrade. | 1 |
| Jira Cloud replication. | 1 |
| Jira merge. | 5 |
| Confluence Server setup and upgrade. | 1 |
| Confluence Cloud replication. | 0.5 |
| Import Confluence to trial Cloud. | 0.5 |
| End User Testing. | Covered by users |
| Production merge and upload to Cloud. | 3 |
| Post Go-live Support. | 1 |
| Total | 15.5 Days |