Accxia working in partnership with Acronis
"Modernising our clients'
cybersecurity and backup with
integrated cyber protection"
One Solution - One Agent - One Console
Have you experienced any of the below?
It's time to act now to avoid attacks ... !
There has been a 300% spike in Cybercrime during the Covid Pandemic! Home working practices and endpoint/PC/laptop security have been the main cause!
57% of attacks are missed by traditional anti-virus solutions!
69% of I.T. based security staff spend more time "managing a plethora" of tools than defending against threats!
One "infected" machine can become the "super spreader"
Given home working practices it is paramount to secure home machines being the weakest links in the infrastructure in order to avoid a company-wide "lockdown"
What happens to your business in the event of a Ransomware attack?
Business stops! Panic takes over! You're in the hands of criminals!
Cyber Crime is the single biggest issue that any business across all sectors have ever encountered
Cyber Crime comes in many guises. Encryption of your data until a ransom is paid - the theft of personal and financial data leaving thousands vulnerable - the theft of passwords leaving our banking facilities and finances exposed.... the list is endless.
Are you willing to take a chance that your business isn't the next on criminals' list?
Many companies and private individuals claiming that ... "It will never happen to us"... "Why would anyone want to attack us" have since lived to regret the decision not to have acted sooner..... sadly, some are also now out of business!
If you feel that your data is vulnerable
Accxia keeps the lights on!
 


PREVENTING DOWNTIME AND DATA LOSS WITH ESSENTIAL CYBER PROTECTION
Engineered by Acronis - Accxia's Cyber Protect Cloud service is the only solution that natively integrates cybersecurity, data protection, and management to protect endpoints, systems, and data, eliminating complexity, that ensures Accxia can protect all of our clients better while keeping costs down.
STRENGTHENING YOUR SECURITY SERVICES AND IMPROVING PROFITABILITY
Reduce risk: Accxia are securing our clients workloads with next-generation cyber protection. Minimising your security risks with integrated cyber protection covering 100% of your endpoints unlocking unique capabilities not available from your current security vendor. Rise to the challenge of 2021's cyberthreats and greatly reduce security incidents and breaches. Leverage our solution that's a global leader in independent testing (VB100, AV Test, AV Comparatives, ICSA Labs).
Lower costs: Cut cyber protection costs by up to 50%. Unlock cost savings by consolidating vendors instead of purchasing multiple point solutions from multiple vendors. Simplify management, improve workflow automation, and reduce the security risks caused by using a 'patchwork' of tools. Harness the power of just one with an integrated solution:
One license, One agent, controlled and deployed through One console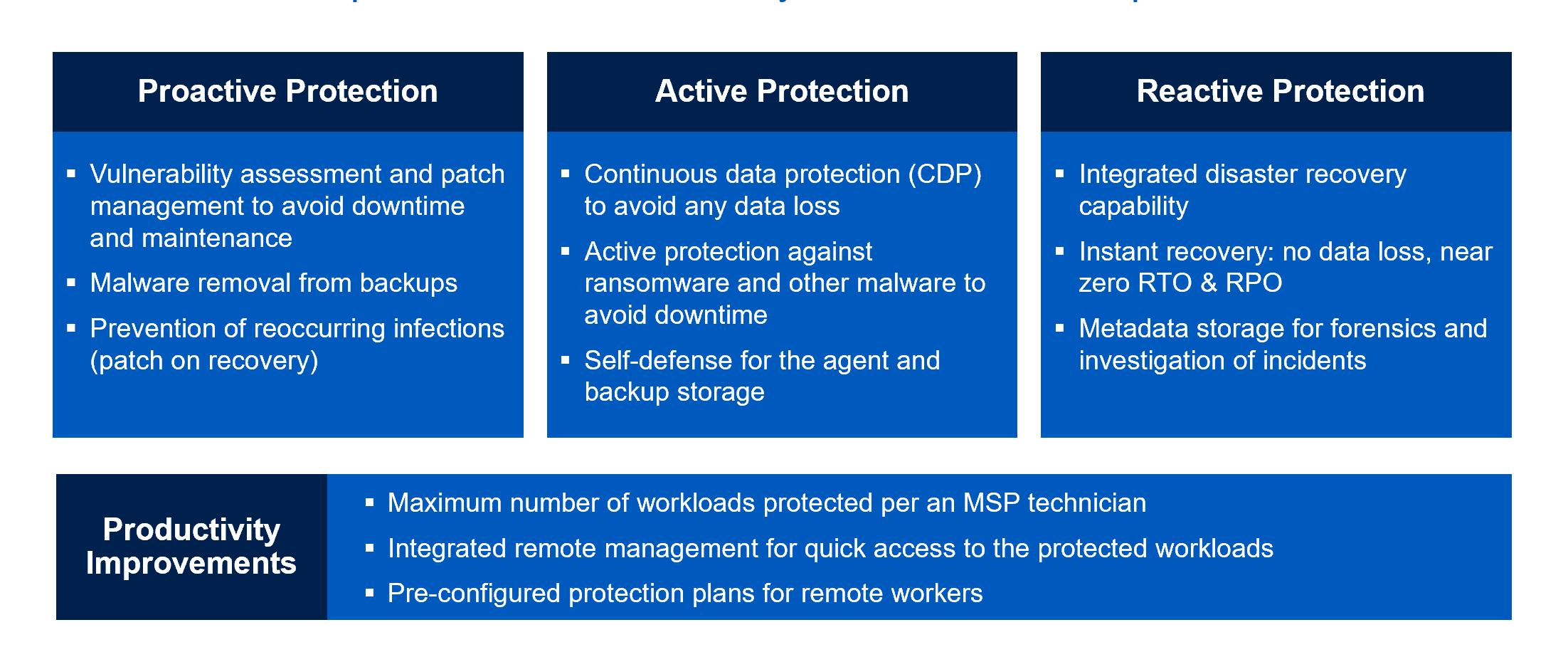 Accxia's Cyber Protect Cloud service provides a single agent and unified console solution that extends beyond backup and disaster recovery by providing patch management, vulnerability assessment, anti-virus, anti-malware protection, and other security functions.
Our world class and best of bread solution improves our SLA delivery by being proactive on downtime with our clients in an easy, efficient and secure way. Performing this task with multiple vendors and agents creates potential challenges.
Accxia's layered strategy helps with safety, accessibility, privacy, authenticity and overall security posture with our clients.
ENHANCE YOUR BACKUP SERVICE WITH ESSENTIAL CYBER PROTECTION AT NO COST
Cybersecurity: Allow Accxia to help you stay ahead of modern cyberthreats with award-winning anti-malware enhanced with anti ransomware capabilities focused on zero-day threats. Prevent data leaks via local channels.
Backup and recovery: Minimise potential data loss across your infrastructure and workloads with the best backup and recovery technology available in consumption-based or per workload licensing models.
Management: Centralise your protection management with Accxia and provision endpoints in minutes. Accxia can remotely assist our clients and assess system vulnerabilities and security gaps providing increased visibility with built-in monitoring and reporting
Disaster Recovery (DR): Accxia can allow clients on DR-enabled tenants to establish secure a connection to the corporate network with your personal devices, or test failover in an isolated network environment.
File sync and share: Accxia increase your productivity by enabling our clients to create and securely share corporate content from anywhere, at any time, and on any device. You only get charged for the storage you use
Notary: Accxia ensure the integrity of data, while achieving regulatory transparency and decreasing security risks with a blockchain based service for file notarisation, e-signing, and verification.
EXPAND YOUR SERVICES WITH ADVANCED PROTECTION PACKS
Add other powerful components to strengthen your services even further with advanced protection packs and unique cyber protection capabilities. Control your costs by paying only for the functionalities you need. Advanced packs include:
Advanced Security: Replace inefficient, legacy antivirus with our integrated cyber protection that includes full-stack anti-malware. Increase detection rate and to the latest cyberthreats. Extend cyber protection to web browsing, backed-up data, the recovery process, and exploit prevention. Enable investigations by capturing forensic data in backups Full stack anti-malware - URL-filtering - Exploit prevention
Advanced Management: Accxia streamline vulnerability management and promptly close gaps in our clients' IT infrastructure through enhanced patch management. Gain visibility into software assets and data protection to ease daily tracking and planning tasks, and improve uptime by monitoring disk drives health. Patch management - Fail-safe patching - Disk drive health monitoring
Advanced Email Security (Powered by Perception Point): Block email threat, including spam, phishing attacks, business email compromise (BEC), advanced persistent threats (APTs), and zero-day threats in seconds before it reaches end-users. Leverage Perception Point's next generation technology for lightning-fast detection and easy deployment, configuration, and management. Anti-phishing and anti-spoofing engines - Anti-evasion technologies - Next-generation dynamic detection against zero-day threats
Advanced Backup: Accxia strengthen your data protection services by ensuring our clients never lose data, even between scheduled backups. Extend backup capabilities to SAP HANA, Oracle DB, and application clusters. Accxia have visibility for the protection status of all data across your infrastructure. Continuous data protection - Data protection map - Scheduled backup reports
Advanced Disaster Recovery (DR): Accxia get our clients back to business in just minutes should disaster strike by spinning up your systems in the Acronis Cloud and restoring them anywhere, ensuring immediate data availability. Accxia make disaster recovery painless and increase efficiency with orchestration, runbooks, and automatic failover. Production failover to the Acronis Cloud - Disaster recovery orchestration - Site-to-site VPN
Whatever your Cyber and hosting requirements - Accxia have a secure and cost effective solution
Accxia // Think Security - Think Accxia //
Please click the link below to book an appointment call with Brian Furness: Sales and Marketing Manager at Accxia